Kerry and Mum Sue very close now
Kerry Katona was born on the 6th of September 1980 to Susan Katona. Susan had an affair with a married man and it is alleged that he was only ever saw Kerry as a baby in the hospital. He has never wanted to know. Sue Katona brought her daughter up the best she could in several different refugee homes. However Sue often battled with depression, she slashed her wrists and attempted suicide, at the age of six Kerry felt she had to be around to keep her mother alive. Kerry today says, "I knew that if I wasn't around, [my mother]'d die."
Kerry and Sue were beat up by men. Kerry once saw her mothers ex boyfriend try to kill her, and ran to neighbors to get help, Sue refused to leave her boyfriend, and Kerry was taken into care. She hated being in the children's homes but Miss Katona had an inner strength a dream of stardom that kept her going. At the age of 13 she was taken into foster homes and met Fred and Margaret Woodhall whom she is in contact with today. Fred and Margaret with their son gave Kerry her first taste of home.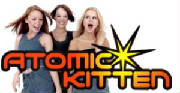 Natasha Liz Kerry-
Atomic Kitten
At the age of 16 Kerry moved out of the Woodhall's and became a lap dancer and glamorous model to pay the bills. She did a dance tour and caught the attention of Andy McCluskey who formed Atomic Kitten around her. He saw she had potential and set out to find her band mates. He first came across Liz McClarnon and Liverpool lass and she hit it off with Kerry straight away. Next was Heidi Range (Sugababes today) but the line-up didn't work for Heidi so there was another search for a third band mate and then came Natasha Hamilton and Atomic Kitten were born.
Kerry was in Atomic Kitten for two years, enjoyed moderate success with the girls but Atomic Kitten only made it big after she left. During her time in the kittens she met and fell in love with Brian McFadden in late 1999. After three weeks of being together they were engaged but kept the relationship secret publicly until October 2000. In January 2001 it was revealed Kerry was pregnant with her first child so decided to leave Atomic Kitten to pursue motherhood and concentrate on being a television presenter.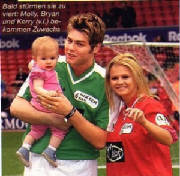 Brian Kerry and baby Molly
On 31st of August 2001 Kerry gave birth to a little girl her and Brian called her Molly McFadden. After the birth of the baby the young loved up couple were planning for their wedding on the 5th of January 2002. Kerry started presenting on shows such as SMTV, This Morning, Elimidate, and got her first big role on Loose Women a show where four women chatted of general topics and Kerry gave a young slick commentary to the show.
Kerry was devastated when she heard Brian had a one night stand on his Stag night, while it rocked the couples marriage they got over it and had another daughter Lily Sue in February of 2003. Kerrys career went from strength to strength and she presented "You're A Star" Irelands pop idol, she continued to be a hit on Loose Women and SMTV.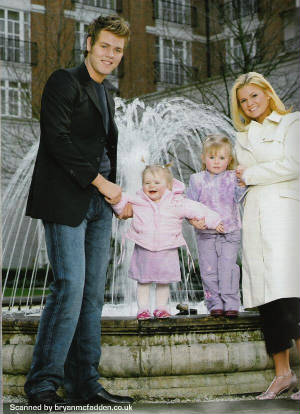 Brian Kerry Molly and Lily Sue
At the end of 2003 Kerry was approached by GMTV and asked to do 2004's 'I'm Celebrity Get Me Out of Here. Kerry agreed and became Jane of the Australian Jungle. Jungle life didn't automatically suit Mrs Mcfadden but she knew was passionate about the cause and became a tough cookie and ended up as Queen of the Jungle at the end of the show becoming the winner.
While 2004 started as a great year for Kerry, she was the sweetheart in the eyes of the British public and there was great support from her. However the end of the year was a train wreck when her seemingly strong marriage to Brian fell apart. Brian who left westlife in March of 2004 to concentrate on his family told Kerry he wasn't in love with her once he embarked on his solo career left her devastated. Up to that point her lifeline was her family she never really experienced as a child and with her split from Brian she fell into a depression and attended a priory clinic in London.
Now 2005 we see Kerry a changed lady changed her name from Kerry McFadden back to Katona. A few weeks ago she was called Mrs McFadden in Dublin and she screamed "Don't call me that" now gone is her trademark blonde look she now brunette on her arm is Dave Cunningham and she appears to be having the time of her life and enjoying life bringing up her two little angels Molly and Lily
Kerry has always been an inspiration for me as no matter what life throws at her she will just get back up and kick ass once again!!!!!!
MISS KATONA – A TRUE INSPIRATION!!!!!!!
2005 NEW KERRY