Andy McCluskey a member of OMD, (Orchestra Maneuvers in the Dark) in 1980 met Kerry Katona in 1998 and was looking to form an all girl-group he thought Kerry would be fanatastic for the group, with her blonde sexy apperance and outstanding bubbly personality. Soon Liz McClarnon was taken on aboard as a second member with Heidi Range as a third. The band was called 'Honeyheads' Heidi decided it was too bubble gum pop for her and eventually joined the Sugababes a few years later.
On the prowl for another member Kerry and Liz found Natasha Hamilton and the final line up for Atomic Kitten was ready.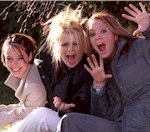 Atomic Kitten got a record deal with Hugh Goldsmith on the Virgin Innocent Label in 1999. In the summer of 1999 the girls toured the UK on the summer festivals with songs such as 'Right Now' 'See Ya' and 'I Want Your Love' then the girls were the back up band for 911 winter tour and when their first single 'Right Now' was released in November 1999 it went straight into #10 in the UK charts. At the end of 1999 Atomic Kitten established themselves as an upcoming band on the Smash Hits Tour ready to storm the charts and become stars of the music world.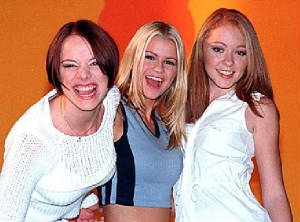 In 2000 they toured Japan and they released their second single 'See Ya' a pop song that no one could resist dancing to.reached #6 in the charts giving the girls an ultimate high to know the were climbing the charts. The summer of 2000 saw the release of 'I want your Love' was another hit for the girls going into #10. In October the girls experienced their first flop single 'Follow Me' which entered the charts at #20 their debut album was followed a week only entering #36 in the UK which spelt out disaster for the girls, they were close to being dropped by their record company. Andy McCluskey talked toVirgin Innocent Records and convinced them to give Atomic Kitten one more chance. They agreed the last chance made all the difference.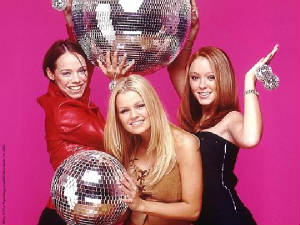 However another bomb hit the kittens founder member Kerry was tired of life in the fast lane and with recently announced pregnancy decided it was better to leave Atomic Kitten. Kerry left the group 25th of January 2001 just before the kittens achieved their first number one with 'Whole Again' Former Precious member Jenny Frost replaced Kerry in the kittens and with Jenny the girls had phenonmeal success before spliting for a year in 2004 but are coming back with old hit cradle.